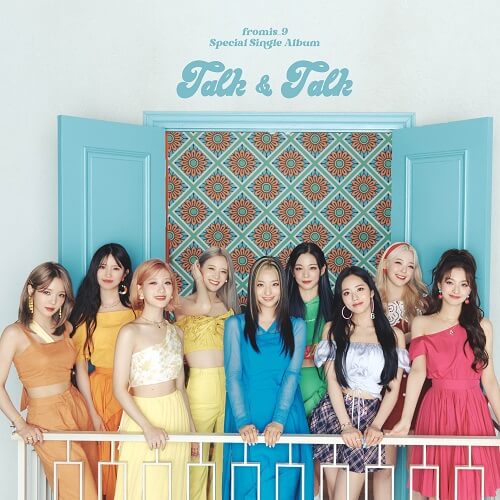 fromis_9 (프로미스나인) is a nine-member girl group currently under Pledis Entertainment. They were formed through the survival program Idol School. fromis_9 officially debuted on January 24, 2018, under Stone Music Entertainment with the mini album To. Heart.

2021:
– On May 17, the group released their second single album 9 Way Ticket, featuring the title track "We Go"
– On August 16, it was announced that Fromis 9 has departed from Off The Record and that Pledis Entertainment will take over the group's management.
– On September 01, the group will release their new special single album Talk & Talk.
Followfromis_9 on:
Group Name
fromis_9
프로미스나인
Label
Pledis Entertainment
Off The Record (2018-2021)
Genre
K-Pop
fromis_9 members
Name
DOB
Position
Lee Sae Rom
이새롬
1997.01.07
Lead Dancer, Vocalist, Rapper, Visual
Song Ha Young
송하영
1997.09.29
Lead Vocalist, Main Dancer
Jang Gyu Ri
장규리
1997.12.27
Lead Vocalist, Face of The Group
Park Ji Won
박지원
1998.03.20
Main Vocalist
Roh Ji Sun
노지선
1998.11.23
Lead Dancer, Vocalist, Center
Lee Seo Yeon
이서연
2000.01.22
Main Rapper, Vocalist
Lee Chae Young
이채영
2000.05.14
Main Dancer, Lead Rapper, Vocalist
Lee Na Gyung
이나경
2000.06.01
Lead Dancer, Vocalist, Rapper, Visual
Baek Ji Heon
백지헌
2003.04.17
Vocalist, Maknae
fromis_9 Lyrics
fromis_9 Music Video
fromis_9 Discography
Korean
Mini albums
To. Heart (2018)
To. Day (2018)
My Little Society (2020)
Single albums
Fun Factory (2019)
9 Way Ticket (2021)
Special single albums
Digital singles
"Glass Shoes" (2017) (pre-debut)
Japanese
Digital singles
"Love Bomb" (TBA) (pre-debut)