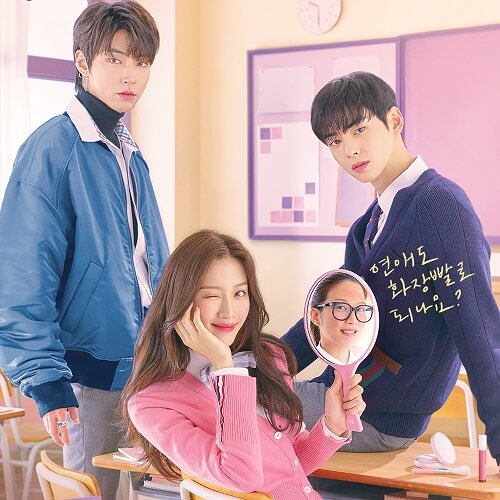 DRAMA PROFILE
Drama:
True Beauty
Goddess Advent (lit.)
Hangul:
여신강림
Romanization:
Yeoshingangrim
Director:
Kim Sang Hyub
Episodes:
16
Network
tvN
Language:
Korean
True Beauty (여신강림) is a 2020 South Korean television series starring Moon Ga-young, Cha Eun-woo, Hwang In-yeop, and Park Yoo-na. Based on a webtoon of the same name, this series tells the story of a high-school girl with an inferiority complex regarding her appearance, a high-school boy with a dark past, and how the pair grow when they meet each other. It premiered on tvN on December 9, 2020 and airs every Wednesday and Thursday at 10:30 pm (KST). (via wikipedia)

Synopsis:
Im Joo-Kyeong is a high school student. Since she was little, she has had a complex about her appearance. To hide her bare face, Im Joo-Kyeong always wears make-up. Her excellent make-up skills makes her pretty and she hides her bare face in front others. She gets involved with 2 men; Lee Soo-Ho and Han Seo-Joon.
True Beauty OST Songs Lyrics
We will update all the songs, lyrics, audio and music video from 'True Beauty (Original Television Soundtrack)' with English Translation as following table:
True Beauty Soundtrack Playlist
(*) ASTRO's Cha Eun Woo will be releasing an OST for his latest tvN kdrama series, 'True Beauty'!