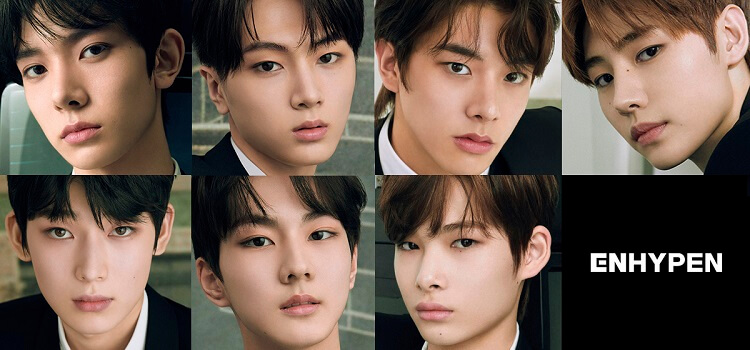 ENHYPEN (엔하이픈) is an upcoming seven-member boy group formed through the reality show I-LAND. They are under BELIFT LAB, a joint venture between CJ ENM and Big Hit Entertainment. The group consists of members Jungwon, Jay, Jake, Ni-ki, Heeseung, Sunghoon, and Sunoo. The name of the group was described as "just like hyphens connect different words to make new meanings, the members will connect, discover each other, and grow together".
They will debut sometime in late November 2020.

Pre-debut: I-LAND
On September 18, 2020, the winners of the reality survival show I-LAND were announced as members of the upcoming boy group ENHYPEN. The group is composed of six members chosen by global viewers and one, Sunoo, chosen by the producer Bang Si Hyuk and directors Son Sung Deuk, DOOBU, Pdogg and Wonderkid.
On October 9, 2020, ENHYPEN announced their official fan club name as ENGENE which has two meanings: firstly, their fans are the "engines" that lets them grow and keep on going and secondly, the fans are the ENHYPEN's "gene" as they both share the same DNA to connect, discover, and grow together.
Follow ENHYPEN on:
Group Name
ENHYPEN
엔하이픈
Label
BELIFT LAB
Genre
K-Pop
Fandom
ENGENE
ENHYPEN MEMBERS
Name
DOB
Position
Heeseung
희승
2001.10.15
Vocalist, Rapper, Dancer, Center
Jay
제이
2002.04.20
Dancer, Rapper, Vocalist
Jake
제이크
2002.11.15
Dancer, Rapper, Vocalist
Sunghoon
성훈
2002.12.08
Dancer, Vocalist
Sunoo
선우
2003.06.24
Vocalist
Jungwon
정원
2004.02.09
 Vocalist, Dancer
Ni-ki
니키
2005.12.09
Main Dancer, Rapper, Maknae
ENHYPEN OFFICIAL VIDEO
ENHYPEN LYRICS
ENHYPEN DISCOGRAPHY
coming soon…