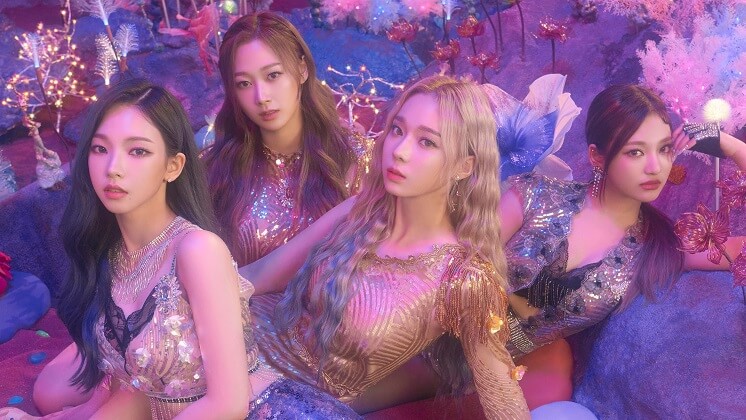 aespa (에스파; stylized as æspa) is an upcoming South Korean girl group under SM Entertainment. They officially debuted on November 17, 2020 with their first single "Black Mamba".
Their name is a combination of "æ", which means 'Avatar X Experience', and "aspect", which means double-sided. Together it means that you would being able to experience a new world through another avatar of yourself.

2020: Debut
– On October 26, 2020, an intro video was released on aespa's social media announcing the name and logo. Later that day, it was announced that SM would be debuting a new girl group in November. The next day, the group's first member, Winter, was officially revealed. On October 28, the second member, Karina, was revealed. On October 29, Ningning was officially revealed as the group's third member. On October 30, Giselle was revealed as the group's fourth and final member.
– On November 2, it was announced the group would debut on November 17 with the digital single "Black Mamba".
– On November 17, on their debut day, the group's fanclub name was announced to be "MY (마이)" which is the word used to mean "the most precious friend" in KWANGYA where aespa's avatar æ lives.

2021
– On January 29, 2021, SM Entertainment announced Aespa will release a new single titled "Forever", a remake of a single by Yoo Young-jin, released for SM Entertainment's holiday album Winter Vacation in SMTOWN.com in 2000.
– On May 4, 2021, it was announced Aespa is preparing for a comeback later this month. Their third single "Next Level", will be released on May 17.
– On September 17, SM teased a video to announce aespa's 1st Mini Album "Savage" will be released on October 5th.
Follow aespa on:
Group Name
aespa
에스파
æspa
Label
SM Entertainment
Genre
K-Pop
aespa Members Profile
Name
DOB
Position
Karina
카리나
2000.04.11
Vocalist, Dancer, Rapper
Giselle
지젤
2000.10.30
Rapper
Winter
윈터
2001.12.30
Dancer, Vocalist
Ningning
닝닝
2002.10.23
Vocalist, Maknae
Each member has a digital version of themselves, referred to as avatars
aespa OFFICIAL VIDEO
aespa Lyrics
aespa Discography
Mini Albums
Singles
Black Mamba (2020)
Forever (2021)
Next Level (2021)