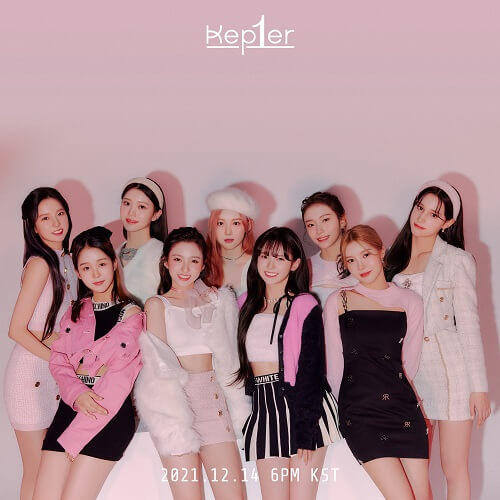 Kep1er (케플러; read as Kepler) is an upcoming 9-member girl group under WAKEONE. The group was formed through Mnet's competition reality show Girls Planet 999. The group is managed by WAKEONE Entertainment and will promote for 2 years and 6 months. They will debut on December 14, 2021.

Pre-debut:
– Girls Planet 999 premiered on August 6, 2021, while the live finale was broadcasted on October 22, 2021, with the girls who ranked in the top nine to debut in the show's product group Kep1er.
– During the finale, nine different contestants were revealed to make their debut; Kim Chaehyun ranked first overall and thus became the group's future center, Huening Bahiyyih ranked second overall, Choi Yujin ranked third, Kim Dayeon ranked fourth, Seo Youngeun ranked fifth, Kang Yeseo ranked sixth, Ezaki Hikaru ranked seventh, Sakamoto Mashiro ranked eighth, and finally, Shen Xiaoting ranked ninth overall and was the last contestant revealed to debut.

2021: Debut
– On November 24, the group's SNS posted teaser photos and announced that they will make their debut on December 14, 2021.
Follow Kep1er on:
| | |
| --- | --- |
| Group Name | Kep1er (케플러) |
| Label | WAKEONE |
| Genre | K-Pop |
Kep1er Members
Name
DOB
Position
Yujin
유진
1996.08.12
Leader
Shen Xiaoting
沈小婷
션샤오팅
1999.11.12
Sakamoto Mashiro
坂本 舞白
1999.12.16
Co-Leader
Kim Chaehyun
김채현
2002.04.26
Center
Kim Dayeon
김다연
2003.03.02
Ezaki Hikaru
江崎 ひかる
2004.03.12
Huening Bahiyyih
휴닝바히에
2004.07.27
Seo Youngeun
서영은
2004.12.27
Kang Yeseo
강예서
2005.08.22
Maknae
Kep1er Official Video
Kep1er Lyrics
Kep1er Discography