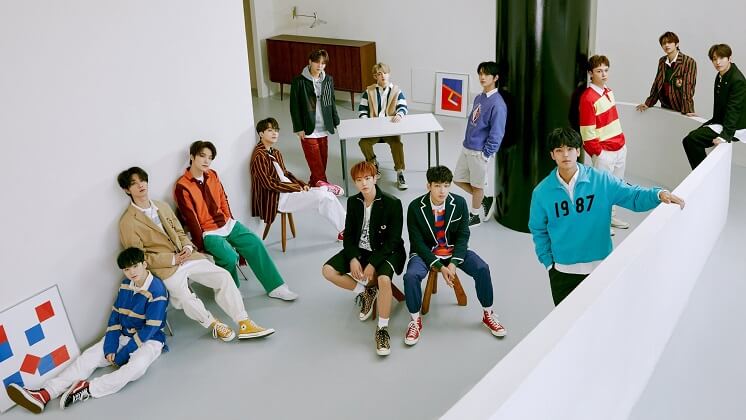 SEVENTEEN (세븐틴) is a South Korean boy group under by Pledis Entertainment. The group consists of 13 members divided into three sub-units, each with a different area of specialization: 'Hip-Hop Unit', 'Vocal Unit', and 'Performance Unit'. They officially debuted on May 26, 2015 with the mini-album 17 Carat. They are known as a self-producing idol group as they are involved in composition and production of their own discography and choreography. As of May 25, 2020 Big Hit Entertainment became Pledis' major shareholder, but Pledis will continue to act as an independent label.
–2020:
SEVENTEEN released their seventh mini album '헹가래 [Heng:garæ] / Journey of Youth' including title track 'Left & Right' on June 22, 2020
On October 5, SEVENTEEN released a video teaser, confirming their comeback with the special album Semicolon on October 19. Seungkwan will be returning from his hiatus.
Follow SEVENTEEN on:
Group Name

SEVENTEEN (세븐틴)
Label
Pledis Entertainment
Genre
K-Pop
Fandom Name
Carat
Official Fan Colors

Rose Quartz


and

Serenity
SEVENTEEN MEMBERS
Name
DOB
Position
S.Coups
에스쿱스
1995.08.08
Leader, Main Rapper, Sub Vocalist
Jeonghan
정한
1995.10.04
Lead Vocalist
Joshua
조슈아
1995.12.30
Lead Vocalist, Visual
Jun (준)
1996.06.10
Lead Dancer, Sub Vocalist
Hoshi
호시
1996.06.15
Main Dancer, Lead Vocalist, Sub Rapper
Wonwoo
원우
1996.07.17
Lead Rapper, Sub Vocalist
Woozi
우지
22, 1996.11.22
Vocal Team Leader, Lead Vocalist
DK / Dokyeom
도겸
1997.02.18
Main Vocalist
Mingyu
민규
1997.04.06
Lead Rapper, Sub Vocalist, Visual, Face of the Group
The8
디에잇
1997.11.07
Lead Dancer, Sub Vocalist, Sub Rapper
Seungkwan
승관
1998.01.16
Main Vocalist, Face of the Group
Vernon
버논
1998.02.18
Main Rapper, Sub Vocalist, Visual, Face of the Group
Dino (디노)
1999.02.11
Main Dancer, Sub Vocalist, Sub Rapper, Maknae
Units
| Unit | Members |
| --- | --- |
| Hip-Hop Team | S.Coups*, Wonwoo, Mingyu, and Vernon |
| Performance Team | Hoshi*, Jun, The8, and Dino |
| Vocal Team | Woozi*, Jeonghan, Joshua, DK, and Seungkwan |
(*) leader
SEVENTEEN LATEST OFFICIAL VIDEO
SEVENTEEN LYRICS
SEVENTEEN DISCOGRAPHY
Korean
Studio albums
First 'Love & Letter' (2016)

Love & Letter Repackage Album (2016)

Teen, Age (2017)
An Ode (2019)
Mini albums
17 Carat (2015)
Boys Be (2015)
Going Seventeen (2016)
Al1 (2017)
You Make My Day (2018)
You Made My Dawn (2019)
Heng:garæ (2020)
Special albums
Director's Cut (2018)
Semicolon (2020)
Mixtapes
Check-In (Hip-hop team) (2016)
Japanese
Mini albums
Singles
"Happy Ending" (2019)
"Fallin' Flower" (2020)
Source (1)