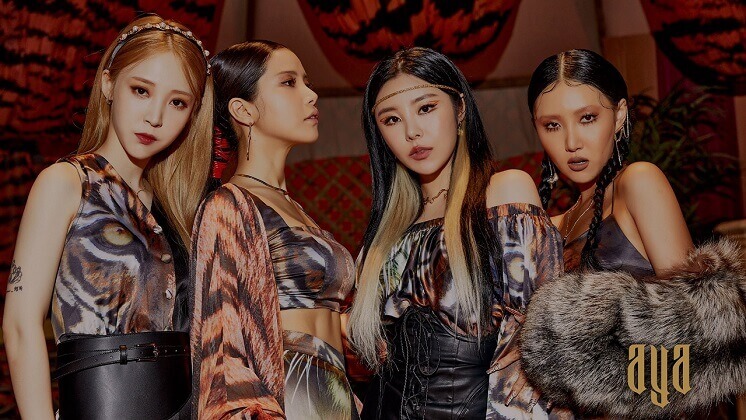 MAMAMOO (마마무) is a four-member girl group currently under RBW. The group officially debuted on June 18, 2014, with the single "Mr. Ambiguous". Their debut was considered by some critics as one of the best K-pop debuts of 2014. They are recognized for their retro, jazz, R&B concepts and their strong vocal performances.

2020:
– On February 19, 2020, Mamamoo released their third Japanese song, "Shampoo," as a digital single. The song, along with the Japanese version of "Hip," is included on the Japanese edition of Reality in Black.
– Following Solar's solo debut with the single, "Spit It Out," on April 23, 2020, Mamamoo became the second Korean group in which every member had a solo song chart on the Billboard's World Digital Song Sales chart.
– Mamamoo released a promotional single, "Wanna Be Myself," in collaboration with Andar on September.
– Mamamoo will release their tenth mini-album, Travel, on November 3, 2020, with the lead single "Aya". Before the album's release, a pre-release single titled "Dingga" was released in October 20, 2020.
Follow MAMAMOO on:
| | |
| --- | --- |
| Group Name | MAMAMOO (마마무) |
| Label | RBW |
| Genre | K-Pop |
MAMAMOO MEMBERS
| Name | DOB | Position |
| --- | --- | --- |
| Solar (솔라) | 1991.02.21 | Leader, Vocalist |
| Moonbyul (문별) | 1992.12.22 | Rapper, Performer |
| Wheein (휘인) | 1995.04.17 | Vocalist, Performer |
| Hwasa (화사) | 1995.07.23 | Vocalist, Rapper, Maknae |
MAMAMOO OFFICIAL VIDEO
MAMAMOO LYRICS
MAMAMOO DISCOGRAPHY
Korean
Studio albums
Melting (2016)
Reality in BLACK (2019)
Mini albums
Hello (2014)
Piano Man (2014)
Pink Funky (2015)
Memory (2016)
Purple (2017)
Yellow Flower (2018)
Red Moon (2018)
Blue;s (2018)
White Wind (2019)
Travel (2020)
Digital singles
I Miss You (2016)
Taller Than You (2016)
Angel, Dab Dab" (2016)
New York (2016)
Rainy Season (2018)
Dingga (2020)
Promotional singles
Taste The Feeling (2017)
Everyday (2018)
Special singles
Paint Me (2018)
Gleam (2019)
Wanna Be Myself (2020)
---
Japanese
Studio albums
4colors (2019)
Reality in BLACK (Japanese Edition) (2020)
Singles
Décalcomanie (Japanese ver.) (2018)
Wind Flower (Japanese ver.) (2019)